Film Review : The Coming Back Out Ball
While Canberra recently celebrated the Marriage Equality 'Yes' vote at YES!Fest, this Australian documentary charts the emergence of a very different new LGBTIQ ball in Melbourne.
The Coming Back Out Ball is a brand new event for LGBTIQ elders who haven't been 'out on the scene' for many a year and is the brainchild of Tristan Meecham and Bec Reid (aka All The Queens Men).
We follow the duo in their party preparations and delve into the lives of a range of elders who are each coming to the ball from a different life circumstance, sexuality or gender identity.
What all of the elders have in common though is that none have an idea of the level of grandeur awaits them at the ball!
On the big night, there's a last-minute twist when the organisers discover that a 'straight wedding' is happening at the venue (the Melbourne Town Hall) just before the ball. Filmed during the postal survey, this provides not just a few logistical challenges but also the emotional challenge of having the elder party goers arrive with those scenes. It's poignant reminder of the clash of worlds we experienced during those times.
But that hiccup soon passes and the elders walk on and into an incredible night full of all-star performances, music and dancing, and most importantly, community.
With the backing of Screen Australia, The Coming Back Out Ball is a high-quality documentary that sets a good scene, builds and builds and climaxes with the magic of the ball offering.
I was fascinated to see how Meecham and Reid tick as they are clearly not of the marginalised demographic that they are catering for. While we got spades of the charismatic and campy Meecham, and lesser so of Reid, I would have liked to have seen more of their 'outside lives' beyond the event to get a fuller picture of what drove them here.
Regardless, they have done an excellent job and it's an idea that will hopefully spread nationally.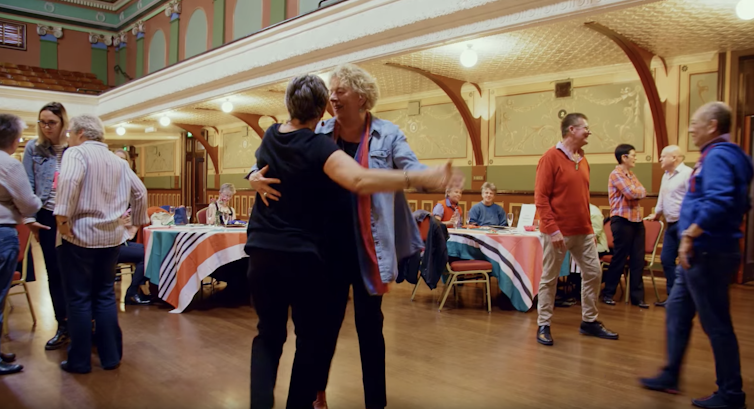 Created by All The Queens Men, The Coming Back Out Ball was a glittering red-carpet evening held in October 2017 to celebrate these pioneers and their achievements, and to combat invisibility for LGBTIQ seniors. Hosted by cabaret legend Robyn Archer and with a guest list including Carlotta, Deborah Cheetham, Gerry Connolly (as the Queen) and a who's who of Melbourne's elder LGBTIQ community, it was a night to remember!
Director Sue Thomson documents the process as All The Queens Men puts the event together and – most importantly – captures the stories of key elders being honoured at the Ball. The resulting film, supported by the MIFF Premiere Fund, is a life-affirming love letter to senior members of the 'alphabet' community, and to Melbourne, with an important message about the necessity of pride, acceptance, equality and dignity at all stages of life – and a whole lot of dancing!
Tags: Gay Film